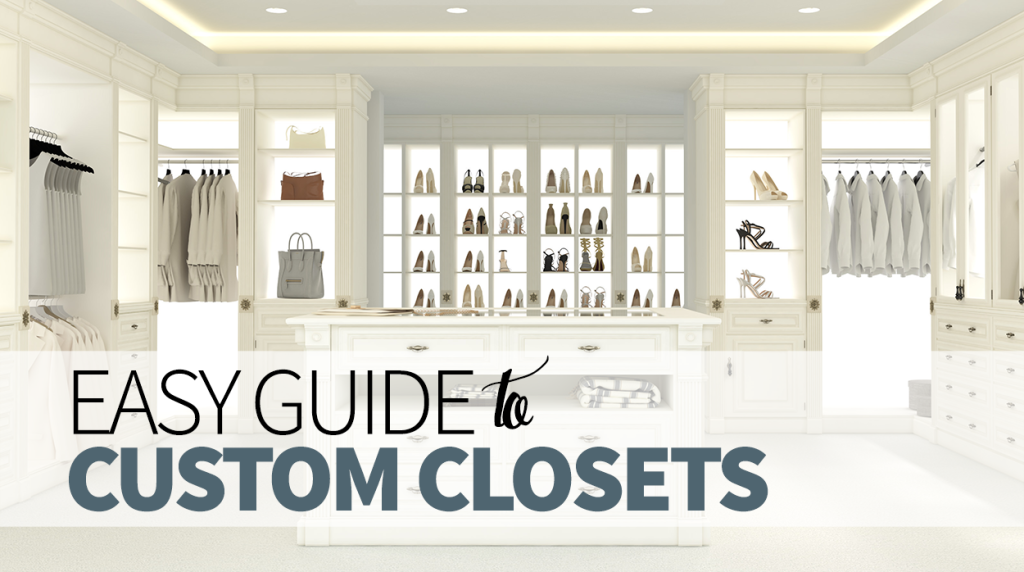 Closets can be incredibly effective for storing everything from clothes and shoes to beach bags and outerwear – you just need to step away from basic closet designs and enter the world of custom closets in Houston. Follow this guide to help you design the perfect custom closet for your needs.
Custom Closets: A Guide to Your Dream Space
The ideal closet for one person may not be right for you. Learn about a variety of storage ideas you can incorporate in your custom closet in Houston based on your lifestyle and personal preferences. Many of your desired closet features can be determined by your style identity.
Ideal Features in Woman's Custom Closets
Shallow, velvet-lined drawers with separate compartments for necklaces, earrings and bracelets prevent your favorite jewelry from ever getting tangled again.
An accessory rack can hold scarves, belts and long necklaces.
Adjustable shelves can hold purses, sweaters and other bulky items you don't want to hang up.
Cubbies showcase your shoe collection.
Features Needed in a Man's Closet
A shoe rack close to the ground keeps shoes off the floor.
A tie rack organizes belts and ties to make them easier to find and help them last longer.
Shallow drawers store socks, undergarments and baseball caps out of sight.
Slide-out baskets can hold sweat pants, running jackets and other sports accessories.
If you share a closet with your significant other, consider taking one side while your partner takes the other to prevent stepping on one another's toes.
Figure Out What Style of Closet Fits Your Needs Best
With various features in mind, it's time to determine how much space you actually need to store you and your partner's clothes, shoes and accessories. Finding custom closets that meet your needs is a bit of a balancing act. Each type has it's own specific pros and cons; but here are a few features to think about!
Walk-in Closets
A large walk-in closet in the master suite is of course ideal. The size can still vary dramatically, from a few square feet to the size of a spacious bedroom. The larger your walk-in closet is, the more important dividing the space into separate zones becomes.
For instance, you should designate higher, harder-to-reach places for seasonal items that come and go. The level that sits right at your waist – also known as the "hot zone" – is the ideal place for things you access the most, such as shallow drawers holding socks and undergarments. Finally, you want to keep the floor space open for storing shoes.
If you have the space, your walk-in closet could certainly benefit from a center island. This increases storage and gives you a convenient place to set out clothes and accessories for the following day.
Reach-in Closets
When you have limited space or fewer items to store, a reach-in closet is appropriate. While a classic reach-in closet contains nothing more than a hanging rod and a shelf, you can install a custom closet in Houston to contain so much more. Cube organizers, drawer units, adjustable shelves and multiple hanging rods help you maximize storage space in a smaller reach-in closet.
You can even make use of the door itself by adding hooks to hang jackets on or over-the-door shoe racks to free up space in the rest of the closet. With a knowledgeable closet designer by your side, you can get more out of your reach-in closet than you ever thought possible.
Find Closet Systems That Work for You.
From inexpensive do-it-yourself closet systems to custom wood closets complete with detailed millwork, you have a wide range of systems to choose from.
Coated Wire Closet Systems
Possibly the most basic and affordable closet organization system, the Coated Wire Closet System is easy to install and generally offers limited versatility.
This economical choice is versatile and widely available from the home improvement section of your favorite big-box store.
Wire provides good air circulation and is easy to clean, but it has the appearance of being cheap and temporary. You can also have custom coated wire closet systems done; however, many designers recommend against investing in the money for that.
I would definitely recommend saving for a dream closet if you're like me and you love organized and luxury spaces in your home. For just a little more money, you can opt for a Melamine Closet system that gives the appearance of a wood stain without the cost. Melamine's are a great cheap alternative to a custom wood closet.
Melamine Closet Systems
Similar to a laminate floor, Melamine is made of resin-coated particleboard or fiberboard that gives off the appearance of painted or stained wood.
This is another economical choice – and most would argue a more attractive one than wire closet systems – but the quality of melamine varies. It's really important to sample building materials that your contractor proposes for a project like this, so that you don't end up with a lack-luster design.
Thicker boards and thermally infused products (as opposed to cold-pressed melamine) are preferred. With a melamine you can save on the cost of building your closet and get alternatives to wood systems.
Not only that, but you can somewhat tailor and customize what your finish looks like without spending huge amounts of money.
Melamine closets in Houston, much like custom wood closets, can be customized and drawn up in a huge variety of shapes and functions.
You can get custom shelving arrangements, drawers and cubbies included making them a crowd favorite.
Custom Wood Closet Systems
When money isn't a huge object, the favored option for a custom closet is to get custom wood closets. Having a custom wood closet in Houston not only raises the value of your home, but it creates an inviting, luxurious feeling space that you'll almost never want to leave.
Known for it's durability and quality, natural wood built closet systems last the longest and resist ware and tare the best. Perfect for even custom kids closets, natural wood is a great way to build a dream closet that you know will last forever.
Wood closets are also preferred because of their strength. Your contractor can build in a seemingly endless array of add-ons to a wood closet without fear of structural instability.
Shop-built wood closet systems are the most attractive option, with features to rival your kitchen cabinets or living room entertain center.
While custom wood is the most expensive option, quality hinges, durable shelves and advanced features make it by far the most desirable.
Get Custom Closet Inspiration
Browse the web to discover different types of closet designs. Let these images inspire you as you plan your dream closet. Print off a few of your favorites and take them with you when you meet with your custom closet designer in Houston. This ensures everyone is on the same page about what you want the finished product to look like.
When you're ready, please contact Natural Stone Gallery. We can help implement the closet styles, features and organization systems you need to make the most of every closet in your home.