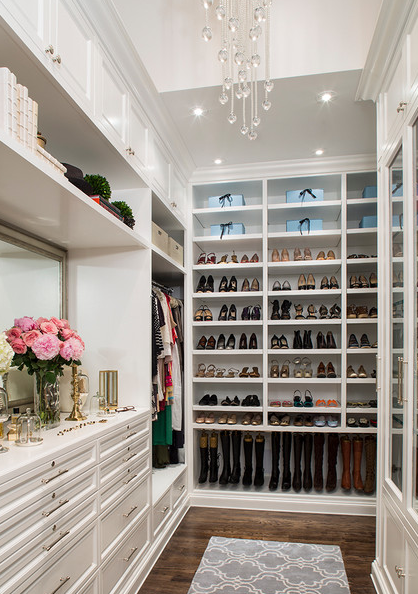 Are you tired of wasting time rummaging through a cluttered closet for clothes, shoes and accessories that seem to get swallowed up in the mess? Do you get anxious any time you think about searching for something in your closet? Save time and reduce stress by incorporating useful custom closet ideas in your Houston home. Here are a few design concepts you're sure to fall in love with.
READ MORE: How to Plan the Closet of Your Dreams
Include More than Just a Shelf and Hanging Rod
In ordinary closets, you have nothing more to work with than a hanging rod or two and a lone shelf. Help your closet stay more organized by adding many of the other useful accessories seen here, including:
Drawers
Shoe racks
Pull-out wicker hamper
Accessory shelves with divided compartments
Spiral clothing rack
Tie hooks
Put a Dresser in Your Custom Closet
To save space in the bedroom, relocate the dresser to your closet. For the most streamlined look, have a new dresser custom-built into your closet. This lets you store all your clothes in one place, saving you time as you get ready in the morning.
Make Your Closet a Dressing Room
Walk-in closets are a must for the master bedroom. This gives you enough space to divide His and Her sides. Close the door behind you and get dressed in the privacy of your very own dressing room. In this high-class custom closet example, you have everything you need to get ready for the day, from floor-length mirrors and plenty of lighting to an upholstered bench to sit on while you put on your shoes.
Put an Island in Your Closet
You know how useful islands are in the kitchen. If you have room for it, put one in your closet, too! This helps you make the most out of every square foot by providing additional shelves, drawers and/or shoe racks in the center of the room. It also provides a surface to set clothes and accessories as you get ready in the morning.
Include an Ironing Station
No one likes ironing, but the chore is much less annoying when you don't have to worry about wrestling with an old ironing board or worrying about rambunctious kids knocking it over. The solution is to install a pull-out ironing board right in the closet. Simply pull out the drawer when you have something to iron, and when you're done, just slide the board back into its designated drawer. It's as easy as that.
Install an Accessory Station
If you love jewelry, purses, scarves and other accessories, give them an organized home right your closet. In this example, an entire cabinet is dedicated to storing accessories, including necklace racks on the door and slide-out shelves with dividers to keep everything neat and organized.
Show off Your Shoes
If you have a shoe collection you're proud of, let each pair shine on a custom floor-to-ceiling shoe rack. In this example, boots hang off the ground to help them keep their shape and last longer. With this setup, you'll be able to find exactly which shoes you're looking for – though you still have to decide which pair to wear that day.
Are you ready to incorporate some of these ideas in your Houston home? Contact us for a free quote today so you can get your custom closet remodeling project started!