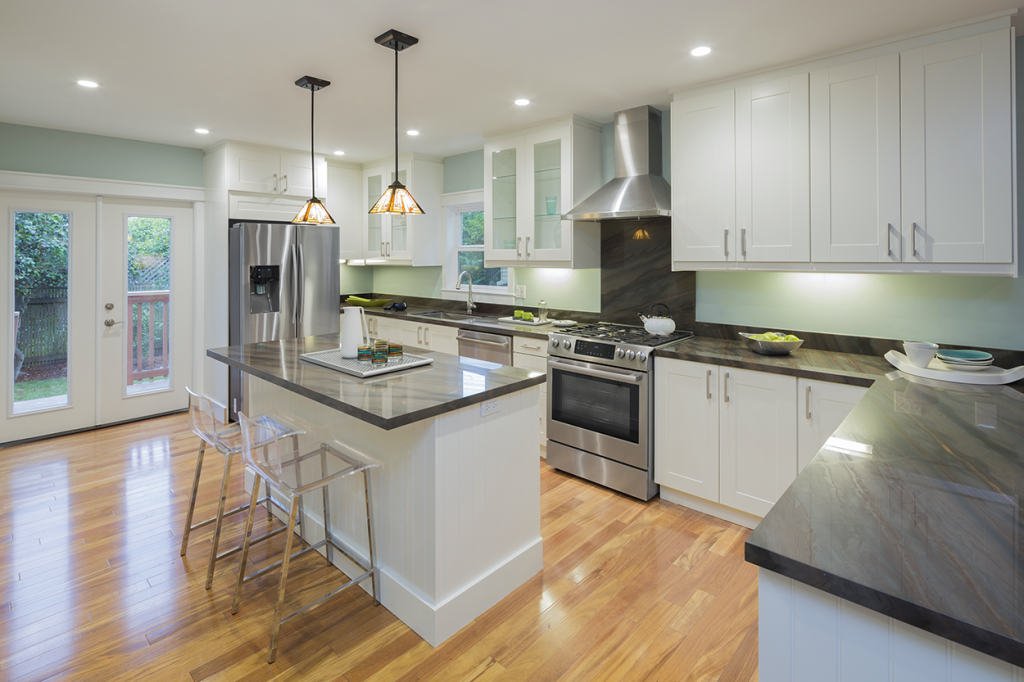 Nothing affects both the appearance and functionality of your kitchen the way cabinets do. How do you narrow down the tremendous selection of cabinets available today? Whether you're considering a total kitchen remodel or you simply want to upgrade your cabinets, follow this guide to help you choose the best Houston cabinets to suit your needs and style.
Glass-Front Cabinet Options for Your Kitchen Remodel
Who says cabinet doors have to be made of wood? Create a different look in your kitchen by installing glass doors on at least some of your upper cabinets.
One major reason to choose glass-front cabinets is if you have specialty plates, crystal wine glasses or ceramic dishes you want to show off without taking up valuable counter space.
Another reason is to allow light to pass through peninsula cabinets. These create a really spacious feel and give your kitchen a super elegant look.
The added storage is practical, but if you have a peninsula in your kitchen, you may not like the way it closes off the space even if the glass cabinets allow light through for a more open feeling.
Don't forget the possibility of decorative glass if you prefer to obscure the appearance of the items you store inside the cabinet. Frosted, etched, stained and colored glass are a few decorative options to choose from.
You can add colored dishes, vases, and knick-knacks to create some colored design elements without over-doing it on your cabinets. As a draw back, custom glass front cabinets DOES mean you have to keep organized.
Eco-Friendly Cabinets
Whether you're hoping to do your part for the environment by choosing eco-friendly building materials, or you want to clean up the air in your home, you have several attractive choices when it comes to cabinets for your kitchen remodel.
First, there are these formaldehyde-free cabinets constructed without particleboard, fiberboard or plywood.
These materials use adhesives that release fumes into your home. Bamboo plywood and agrifiber boards are formaldehyde-free for cleaner indoor air.
Another eco-friendly option is to purchase wood cabinets certified by the Forest Stewardship Council (FSC). This ensures the wood comes from responsibly harvested forests.
Similarly, you can seek salvaged wood from old projects and put it to good use instead of dooming it to the landfill.
Finally, you can choose renewable materials such as lyptus or bamboo, as shown here. These species grow rapidly, yet they boast the same beneficial characteristics as hardwood, which usually takes decades to mature.
Two-Tone Cabinets in Kitchens
Mix-and-match cabinets in Houston are a trend that will stay around for the foreseeable future. When done right, two- or even three-tone cabinets can enhance your kitchen greatly.
This kitchen would certainly still be beautiful even if all the cabinets were brown, but the peacock blue accents provide a sassy energy that breathes life into the kitchen.
If you like the hutch-style cabinets shown here, dare to be bold by painting your own a different color than the surrounding cabinetry. Two-tone cabinets also serve to pull the wall color into the room.  This provides continuity to the room and helps everything feel like it goes together without being an exact match.
Flat-Panel Kitchen Cabinets
If you love a modern-style kitchen, there's no better option than flat-panel cabinets. The clean lines have a minimalist appearance so common in today's modern designs.
Choosing the right hardware to go with your flat-panel cabinets is important for achieving the modern look you want.
The tubular stainless steel bar-pulls shown here match the sharp geometric lines of the rest of the kitchen.
Modern designs tend to combine with industrial materials. In this kitchen remodel, wood cabinets are nowhere to be found.
In their place are flat-panel fiberboard cabinets with a white, high-gloss finish. Black tabs act as functional drawer-pulls and also provide a pop of contrasting color.
Flat panels lend themselves to being painted a bright, bold color, which of course fits the modern theme perfectly.
Choose a color you can live with for years to come so you don't end up having to paint the cabinets again in just a few years.
How to Decide Which Cabinets in Houston are Best for Your Kitchen Remodel
Even after narrowing down your selection to these five Houston cabinet options, you may still hesitate to select one over the other. For help making a decision that will stand the test of time, work with a full-service kitchen and cabinet design company. Together, you can create a cabinet arrangement to match your current kitchen or design a layout to go with the renovations you have in mind. Your final choice is sure to complement the space and suit your tastes.
To learn more about having new cabinets designed and installed in your kitchen remodel, please contact Natural Stone Gallery today.