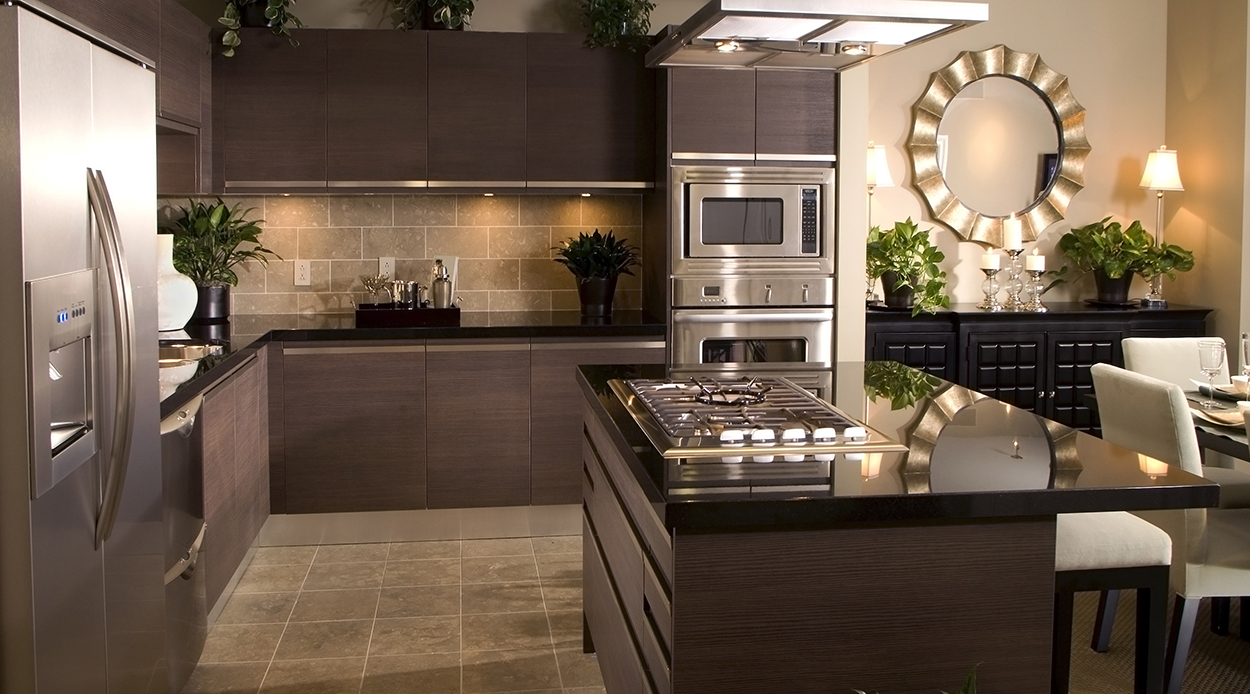 A kitchen design remodel is one of the most exciting changes you can make in your home. With so many designs to choose from, you may need a little inspiration to help you transform your kitchen. Consider the unique features of the best kitchen designs on the web. Your kitchen design should adapt to your life; your life should never adapt to your kitchen! These 10 designs bring kitchens to the highlights of life.
Unique Kitchen Design Options Worth a Second Look
How often do you forget about the items stored in the back of deep cabinets? Pull-out shelves make sure you can reach everything with ease. By remodeling your kitchen so every cabinet has this feature, you'll find that organizing and storing things in your kitchen becomes much easier!
This shaker-inspired contemporary space is a beauty to behold! The design is also highly functional. The island features drawers and cabinets on all sides for 360-degrees storage in addition to the shelving behind the island that serves both as a great eyepiece as well was functional storage.
The over-island lighting and under-cabinet lights near the sink make this kitchen a joy to work in, day or night and adds depth the design. Natural lighting floods in creating a great reflection on the granite surface of the island. Natural stone is used in the tile, counter for the island, and even the granite counter top around the sink.
Storage is the key to success in this kitchen. For a bonus, consider an island cook top to make cooking in this kitchen a joy. With the Houston heat, this room is sure to add a cool touch to the home in addition to being easy to clean and light.
Rounded Breakfast Nook for Entertaining
Remodeling your kitchen can be inspired by any number of things; but one of the most common reasons people remodel is to help make more space for their life. Instead of a breakfast nook, consider this kitchen design, which allows your family to enjoy one anothers' company around the island. The unique round design makes the eating area more intimate and brings dining into the kitchen for space saving convenience.
Another alternative to the traditional breakfast nook, the rounded granite countertop allows even more people to sit and eat right in the kitchen. This built-in nook is the perfect way to bring diners and food preparers together in the kitchen, saving the formal dining room for when guests are over.
When you're remodeling, make sure to consider your lifestyle. If you're one to entertain often, consider adding something like the curved bar to accomodate your gifts and make that Friday night cocktail or dinner date much more social. Whether you're relaxing on Galveston beach or you're entertaining in downtown Houston, the custom granite counters in this design are perfect for any home.
Custom Closets in the Dining Room Remodel
Custom closets don't need to stay in the bedroom; a custom pantry can completely transform the function in any kitchen. Walk-in pantries are easier to keep organized when they feature adjustable shelves, pull-out wicker baskets and vertical slots, as seen in this kitchen design.
Even if you only have space for a reach-in pantry, installing shelves on the back of the door is a great way to maximize storage space. You spend a lot of time in your Kitchen, put that time to good use by staying organized and amplifying every ounce of space.
On top of adding value to your home, a custom pantry can add value to your life. The one shown here does a great job of maximizing storage space while maintaining a luxury / high-end feel with the marble counter top to the left. Pantry's are a great alternative for people who aren't a fan of having a ton of cabinets and are often preferred because you can visibly see everything you need to get to without going cabinet to cabinet.
The Wine & Reading Island
If you're thinking of remodeling your kitchen island, remember: it can be used for more than just storing cookware and utensils. With this unique kitchen design, wine bottles and cookbooks also have a home.
A second sink also makes food prep and cleanup easier, especially when multiple chefs are sharing the kitchen. As with most of the designs in this piece, the storage really makes this kitchen pop, and for those of us that love to entertain, having a solid island is one of the most important aspects to our Houston Kitchen Remodel.
You'll notice that this space is also fully equipped with a subway tile back-splash and white marble counter-tops. As we discussed in our white marble guide, there's more than one type of stone that's more
READ MORE: Kitchen Remodeling Tips From the Experts